39 Ft Water Sprinkler Pipe For Outdoor Water Park Trampoline Kids Toy Spray Hose
About this item
Cool Time-Let this trampoline sprinkler bring a cool time for your kids in hot summer days. Water Sprinkler lower the temperature on the trampoline by up to 25 Degrees.
Summer Toys-Best outside water toys for girls and boys. Total length 39ft, freely cut to match your trampoline.
Top Quality-Trampoline water sprinkler is made of premium PE material which is durable, environmental and non-toxic.
Easy Install-No extra tools needed to install this trampoline sprinkler waterpark.
The trampoline sprinkler is very suitable for outdoor use in hot summer. You can't imagine how happy your children will be if they received so sepcial and amazing summer gift. You make your babies have a better time, and they will love you more.
Key Features
Safe and easy to install: Fixing the sprinkler kit on the outside of the trampoline net to prevent 
kids from grabbing by accident when jumping. It is recommended to use a fixing strap every 40cm.The fixing strap that can be reused.
Adjustable water flow: The water flow of the water spray hose can be adjusted according to your needs. Depending on the age of the child, the different water flow can be adjusted, so that the child will not feel uncomfortable, ensuring the children have a safe and pleasant summer!
Packing include:
1x 39.3ft (12m) Water Spray Hose
1x Threaded Faucet Connector
20x 11.8inch Cable ties
25x 7.9inch Cable ties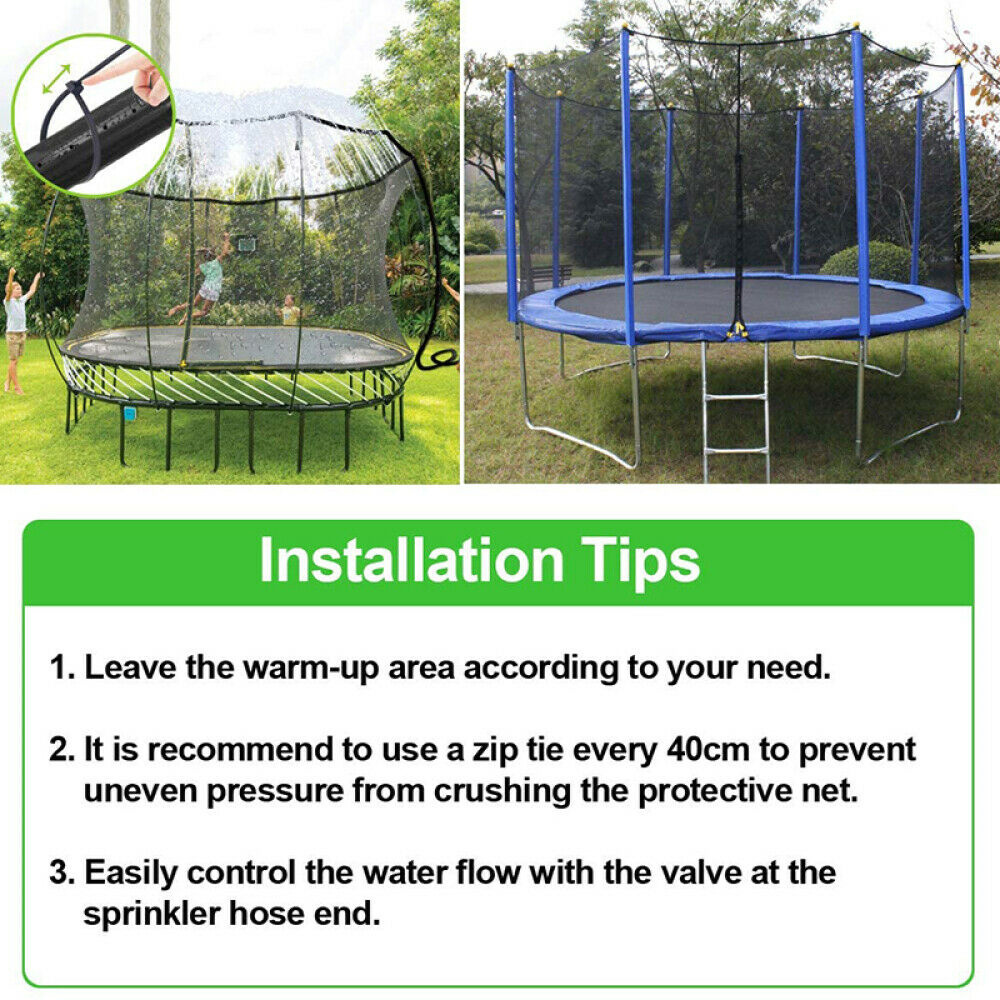 The 39 Ft Water Sprinkler Pipe For Outdoor Water Park Spray Hose was built with people like you in mind. Something to keep you happy. Every. Single. Day.

Inventory Last Updated: Jan 16, 2021